Volume 1
Volume 2
Volume 3
Nested PCR
(Protocol summary only for purposes of this preview site)
Nested PCR is used in situations in which it is necessary to increase the sensitivity and/or specificity of PCR: for example, when amplifying a particular member of a polymorphic gene family or when amplifying a cDNA copy of an mRNA present at very low abundance in a clinical specimen containing several different cell types (a heterogeneous population of cells).

Save 30% & Get Free Shipping!
Save 30% at checkout on our website.
(Limited time special offer.)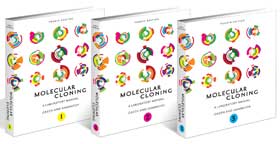 Search for information about other protocols included in the book:
Read What Others Are Saying About Molecular Cloning:
Get alerts about special offers from Cold Spring Harbor Laboratory Press free to your Inbox