Volume 1
Volume 2
Volume 3
The material on this page is part of Chapter 10, which is shown in full as a preview on this site.
Chapter 10: Nucleic Acid Platform Technologies
Rando Oliver, Department of Biochemistry and Molecular Pharmacology, University of Massachusetts Medical School, Worcester, Massachusetts 01605
EVERYMICROARRAY EXPERIMENT IS BASED ON A COMMON format (Fig. 1). First, a large number of nucleotide spots are arrayed onto a substrate, typically a glass slide, a silicon chip, or microbeads. Second, a complex population of nucleic acids (isolated from cells, selected from in vitrosynthesized libraries, or obtained from another source) is labeled, typically with fluorescent dyes. Third, the labeled nucleic acids are allowed to hybridize to their complementary spot(s) on the microarray. Fourth, the hybridized microarray is washed, allowing the amount of hybridized label to then be quantified. Analysis of the raw data generates a readout of the levels of each species of RNA in the original complex population.
Microarrays can be run in one-color or two-color formats. In a one-color microarray, a single sample (e.g., RNA from liver cells) is labeled, and the abundance of a species of RNA is inferred from the intensity of the spot(s) complementary to the relevant gene. Because, for each spot, hybridization is affected by a panoply of factors, interpretation of single-color experiments can be complicated. Practically, however, many of these complicating factors are resolvable by using the proper bioinformatics tools during data analysis. Two-color microarrays (Fig. 1) use a competitive hybridization in which one nucleic acid sample is labeled with one color (green), and a related sample is labeled with a second color (red). Following hybridization and removal of unbound nucleic acid, the microarray is scanned with lasers to detect where the red- and green-labeled molecules have bound. The intensity of each spot is determined, and the red/green ratio is measured for each spot. During data analysis, this ratio can be used to measure the ratio of the amount of related nucleic acid molecules in the two samples. For example, if RNA from normal liver is tagged green and RNA from a liver tumor is labeled red, then red spots would represent RNAs that are up-regulated in the tumor, and green spots would represent down-regulated RNAs.
Tiling microarrays consist of regularly spaced oligonucleotides that provide dense coverage of a genome or portion of a genome. For example, yeast chromosome III was tiled using oligonucleotides 50 nucleotides long spaced every 20 bases; that is, spot 1 comprised bases 150, spot 2 bases 2170, and so forth. Tiling microarrays therefore interrogate continuously along a chromosomal path, enabling applications, such as transcript structure and protein localization, to be performed with almost complete genomic coverage. One disadvantage to tiling microarrays is that not all genomic sequence is equally suited to microarray applications. For example, not all 50-mers in a genome are unique, leading to gaps in the tiling path where hybridization-based approaches cannot determine whether the hybridizing material comes from copy 1 or copy 2 (or copy N) in the genome. Furthermore, hybridization-related properties such as the percentage of A and T residues and oligonucleotide melting temperature vary from probe to probe, although many issues like these can be resolved by normalizing two-color arrays. Normalization, which compensates for systematic technical differences between spots and/or arrays, clarifies the systematic biological differences between samples.
---
---
---
REFERENCES
Arava Y, Wang Y, Storey JD, Liu CL, Brown PO, Herschlag D. .

Year:

2003. Genome-wide analysis of mRNA translation profiles in Saccharomyces cerevisiae. Proc Natl Acad Sci100: 38893894.
Ashurst JL, Collins JE. .

Year:

2003. Gene annotation: Prediction and testing. Annu Rev Genomics Hum Genet4: 6988.
Blencowe BJ. .

Year:

2006. Alternative splicing: New insights from global analyses. Cell126: 3747.
Bozdech Z, Llinas M, Pulliam BL, Wong ED, Zhu J, DeRisi JL. .

Year:

2003a. The transcriptome of the intraerythrocytic developmental cycle of Plasmodium falciparum. PLoS Biol1: e5. doi: 10.1371/journal.pbio.0000005.
Bozdech Z, Zhu J, Joachimiak MP, Cohen FE, Pulliam B, DeRisi JL. .

Year:

2003b. Expression profiling of the schizont and trophozoite stages of Plasmodium falciparum with a long-oligonucleotide microarray. Genome Biol4: R9. doi: 10.1186/gb-2003-4-2-r9.
Brent MR. .

Year:

2005. Genome annotation past, present, and future: How to define an ORF at each locus. Genome Res15: 17771786.
Calarco JA, Saltzman AL, Ip JY, Blencowe BJ. .

Year:

2007. Technologies for the global discovery and analysis of alternative splicing. Adv Exp Med Biol623: 6484.
Cowell JK, Hawthorn L. .

Year:

2007. The application of microarray technology to the analysis of the cancer genome. Curr Mol Med7: 103120.
DeRisi JL, Iyer VR, Brown PO. .

Year:

1997. Exploring the metabolic and genetic control of gene expression on a genomic scale. Science278: 680686.
Eberwine J, Belt B, Kacharmina JE, Miyashiro K. .

Year:

2002. Analysis of subcellularly localized mRNAs using in situ hybridization, mRNA amplification, and expression profiling. Neurochem Res27: 10651077.
Eisen MB, Spellman PT, Brown PO, Botstein D. .

Year:

1998. Cluster analysis and display of genome-wide expression patterns. Proc Natl Acad Sci95: 1486314868.
Gerber AP, Herschlag D, Brown PO. .

Year:

2004. Extensive association of functionally and cytotopically related mRNAs with Puf family RNA-binding proteins in yeast. PLoS Biol2: e79. doi: 10.1371/journal.pbio.0020079.
Gresham D, Dunham MJ, Botstein D. .

Year:

2008. Comparing whole genomes using DNA microarrays. Nat Rev Genet9: 291302.
Hacia JG. .

Year:

1999. Resequencing and mutational analysis using oligonucleotide microarrays. Nat Genet21: 4247.
Hieronymus H, Silver PA. .

Year:

2003. Genome-wide analysis of RNAprotein interactions illustrates specificity of the mRNA export machinery. Nat Genet33: 155161.
Hodges E, Xuan Z, Balija V, Kramer M, Molla MN, Smith SW, Middle CM, Rodesch MJ, Albert TJ, Hannon GJ, McCombie WR. .

Year:

2007. Genome-wide in situ exon capture for selective resequencing. Nat Genet39: 15221527.
Hughes TR, Mao M, Jones AR, Burchard J, Marton MJ, Shannon KW, Lefkowitz SM, Ziman M, Schelter JM, Meyer MR, et al.

Year:

2001. Expression profiling using microarrays fabricated by an ink-jet oligonucleotide synthesizer. Nat Biotechnol19: 342347.
Hughes TR, Hiley SL, Saltzman AL, Babak T, Blencowe BJ. .

Year:

2006. Microarray analysis of RNA processing and modification. Methods Enzymol410: 300316.
Iyer VR, Horak CE, Scafe CS, Botstein D, Snyder M, Brown PO. .

Year:

2001. Genomic binding sites of the yeast cell-cycle transcription factors SBF and MBF. Nature409: 533538.
Kapranov P, Cawley SE, Drenkow J, Bekiranov S, Strausberg RL, Fodor SP, Gingeras TR. .

Year:

2002. Large-scale transcriptional activity in chromosomes 21 and 22. Science296: 916919.
Mockler TC, Chan S, Sundaresan A, Chen H, Jacobsen SE, Ecker JR. .

Year:

2005. Applications of DNA tiling arrays for whole-genome analysis. Genomics85: 115.
Pollack JR, Perou CM, Alizadeh AA, Eisen MB, Pergamenschikov A, Williams CF, Jeffrey SS, Botstein D, Brown PO. .

Year:

1999. Genome-wide analysis of DNA copy-number changes using cDNA microarrays. Nat Genet23: 4146.
Ren B, Robert F, Wyrick JJ, Aparicio O, Jennings EG, Simon I, Zeitlinger J, Schreiber J, Hannett N, Kanin E, et al.

Year:

2000. Genome-wide location and function of DNA binding proteins. Science290: 23062309.
Sabo PJ, Kuehn MS, Thurman R, Johnson BE, Johnson EM, Cao H, Yu M, Rosenzweig E, Goldy J, Haydock A, et al.

Year:

2006. Genome-scale mapping of DNase I sensitivity in vivo using tiling DNA microarrays. Nat Methods3: 511518.
Shoemaker DD, Schadt EE, Armour CD, He YD, Garrett-Engele P, McDonagh PD, Loerch PM, Leonardson A, Lum PY, Cavet G, et al.

Year:

2001. Experimental annotation of the human genome using microarray technology. Nature409: 922927.
Solovyev V, Kosarev P, Seledsov I, Vorobyev D. .

Year:

2006. Automatic annotation of eukaryotic genes, pseudogenes and promoters. Genome Biol7: S10.1S10.12.
Yuan GC, Liu YJ, Dion MF, Slack MD, Wu LF, Altschuler SJ, Rando OJ. .

Year:

2005. Genome-scale identification of nucleosome positions in S. cerevisiae. Science309: 626630.
Zhang MQ. .

Year:

2002. Computational prediction of eukaryotic protein-coding genes. Nat Rev Genet3: 698709.
---
WWW RESOURCES
Protocol 1: Printing Microarrays
doi10.1101/molclon.000179
Most laboratories will choose to order microarrays from a commercial vendor, such as NimbleGen, Agilent, Affymetrix, or Illumina. These vendors sell a number of products encompassing genomes from the three domains of life. In addition, custom microarrays can be made to order by most of these companies. Microarray printing, however, is sufficiently straightforward that even small laboratories with extensive microarray needs may find it cost-effective and worth the effort to produce their own microarrays. Printing microarrays requires a spotting robot. Several commercial spotting robots are available, such as the OmniGrid series (Digilab Genomic Solutions). These instruments are expensive and will most frequently be housed in institutional core facilities or in large laboratories. As an alternative, designs for building a spotting robot have been available from the Brown laboratory at Stanford for many years. Protocols for building a spotting robot are beyond the scope of this chapter, but interested parties can find a protocol at http://cmgm.stanford.edu/pbrown/mguide/.
For typical microarrays, oligonucleotides are prepared at 2040 M in aqueous 3 SSC and are distributed into 384-well plates. Oligonucleotides are printed to polylysine-coated microarray slides. It is best to print when the humidity is at least 50. When the humidity is 2030, there can be problems with pins drying. To increase or maintain proper humidity, consider building a humidity-controlled enclosure around the robot. For robots lacking an enclosure, it may be adequate to run a humidifier or two during the printing procedure.
The details of a printing protocol vary depending on the robot being used; thus, follow the manufacturer's instructions. However, a typical workflow using a robot equipped with contact steel quill pins is provided in this protocol.
---
---
---
---
WWW RESOURCE
Protocol 2: Round A/Round B Amplification of DNA
doi10.1101/molclon.000180
The goal of this procedure is to randomly amplify a sample of DNA to achieve the best possible sequence representation. This protocol has been used successfully to amplify genomic representations starting with <10 ng of DNA. The protocol consists of three sets of enzymatic reactions. In Round A, Sequenase is used to extend randomly annealed primers to generate templates for subsequent PCR. During Round B, a specific primer is used to amplify the previously generated templates. Finally, amplified material can be labeled as in Protocol 7 or 8. Alternatively, Round C in this protocol can be used to incorporate either aminoallyl-dUTP or Cy-dye-coupled nucleotides during additional PCR cycles. This protocol may be unsuitable for amplifying material smaller than 250 bp because such material will not be amplified uniformly. In those cases, Protocol 3 is recommended. This protocol was adapted from Bohlander et al. (1992).
---
---
---
---
REFERENCE
Bohlander SK, Espinosa R III, Le Beau MM, Rowley JD, Diaz MO. .

Year:

1992. A method for the rapid sequence-independent amplification of microdissected chromosomal material. Genomics13: 13221324.
Protocol 3: T7 Linear Amplification of DNA (TLAD) for Nucleosomal and Other DNA < 500 bp
doi10.1101/molclon.000181
Protocol 2 has been used extensively in genomic localization analysis and appears to work quite well for typical applications in which DNA is sheared by sonication to 500 bp. However, when DNA is sheared to a population whose modal size is <500 bp, bias in the PCR step skews representation of some genomic loci (Liu et al. 2003). In addition, a subset of applications requires amplifying DNA populations that are smaller than 500 bp; a notable example is ChIP on mononucleosomal DNA, which is 150 bp long (Liu et al. 2005). In these circumstances, T7 linear amplification of DNA (TLAD) is preferred because it more accurately maintains uniform representation of short DNA fragments during amplification than does the amplification method described in Protocol 2.
Amplification of double-stranded DNA by TLAD begins with the addition of a 3 tail of poly-thymidine to DNA by TdT. Second, the Klenow fragment of E. coli DNA polymerase is used, along with a T7-poly(A) primer, to generate a complementary strand that carries a 5 T7 primer. Finally, extension of the original T-tailed DNA strand yields a template suitable for T7-based transcription, which generates amplified RNA (aRNA). This technique avoids the jackpotting issues observed with PCR, in which an early amplification event leads to disproportionate representation of a particular sequence, because PCR follows exponential kinetics, whereas transcription is a linear amplification method.
This protocol takes some time to complete. Table 1 provides estimates of the time required for each procedure.
---
---
---
---
REFERENCES
Liu CL, Schreiber SL, Bernstein BE. .

Year:

2003. Development and validation of a T7 based linear amplification for genomic DNA. BMC Genomics4: 19. doi: 10.1186/1471-2164-4-19.
Liu CL, Kaplan T, Kim M, Buratowski S, Schreiber SL, Friedman N, Rando OJ. .

Year:

2005. Single-nucleosome mapping of histone modifications in S. cerevisiae. PLoS Biol3: e328. doi: 10.1371/journal.pbio.0030328.
Protocol 4: Amplification of RNA
doi10.1101/molclon.000182
Gene expression profiling typically requires microgram quantities of mRNA, which can be difficult to obtain. In such cases, RNA must be amplified in order to have enough material for microarray labeling and hybridization. Currently, the most popular choice for amplifying RNA is to use a commercial kit, such as MessageAmp II (Ambion), a product with which we have had good success. These kits are expensive, however, and thus this protocol provides an alternative RNA amplification procedure adapted from Baugh et al. (2001).
This protocol generates amplified antisense RNA (aRNA) from limited quantities of total RNA (see Fig. 1). It is designed around maximizing yield and product length while minimizing template-independent side reactions. Template-independent reactions compete with the desired template-dependent reaction, an undesirable situation that becomes more severe as less RNA template is used. Amplification products dominated by template-independent product result in greatly reduced sensitivity and compression of differences in microarray hybridization experiments. Most notably, the oligo(dT) primer used in reverse transcription (RT) yields a high-molecular-weight product in the in vitro transcription (IVT) reaction independent of any cDNA template (Baugh et al. 2001). This reaction occurs under all conditions tested; the protocol is therefore designed to limit the amount of primer used to start with. In addition, high-molecular-weight, template-independent product is generated in the presence of biotinylated NTPs and the absence of any polymer when excessive amounts of T7 RNA polymerase activity are used. Template-dependent product of questionable molecular weight and limited functionality in downstream reactions can also be produced with excessive T7 RNA polymerase activity. Essentially, more yield is not always better. The protocol limits the amount of primer used by employing small cDNA synthesis volumes.
The key consideration in any amplification protocol, as noted in Protocols 2 and 3 for DNA labeling, is preventing representation bias in the amplified material. As with DNA amplification, a valuable initial experiment for investigators who are new to RNA amplification is to compare unamplified RNA and amplified RNA by microarray hybridization. The readout should be designed to reveal which sequences are over- and underrepresented after amplification, and by how much.
At the end of the protocol, quantify the mass yield of amplified material. A single round of amplification typically results in a fivefold to 20-fold mass conversion of starting material. If the first-round aRNA is used as a template for a second round of amplification, 200- to 400-fold amplification is typical.
---
---
---
---
REFERENCE
Baugh LR, Hill AA, Brown EL, Hunter CP. .

Year:

2001. Quantitative analysis of mRNA amplification by in vitro transcription. Nucleic Acids Res29: e29. doi: 10.1093/nar/29.5.e29.
Protocol 5: Direct Cyanine-dUTP Labeling of RNA
doi10.1101/molclon.000183
This is the simplest method to label RNA for use in expression analysis. RNA is reverse-transcribed using both oligo(dT) and random hexamers as primers. The random hexamers improve overall efficiency of labeling, especially at the 5 end of the RNA. Fluorescently labeled dUTP is incorporated into the cDNA. After reverse transcription, the RNA is degraded, and the labeled cDNA is purified from unincorporated Cy dyes. Finally, samples labeled with Cy3 and Cy5 dyes are mixed and combined with blocking nucleotides and used for hybridization, as described in Protocol 10.
---
---
---
---
Protocol 6: Indirect Aminoallyl-dUTP Labeling of RNA
doi10.1101/molclon.000184
This protocol is slightly longer than the simpler direct-labeling protocol, but it is significantly cheaper because of the high cost of Cy-dNTPs used in Protocol 5. This labeling procedure is called indirect because the fluorescent moiety is not incorporated during the reverse transcription reaction. Instead, a reactive nucleotide analog (aminoallyl-dUTP) is incorporated during reverse transcription, the cDNA is isolated, and then the cyanine dyes are incorporated by binding with the aminoallyl group to produce the desired fluorescent cDNA.
---
---
---
---
Protocol 7: Cyanine-dCTP Labeling of DNA Using Klenow
doi10.1101/molclon.000185
Similar to the direct RNA labeling protocol (Protocol 5), direct DNA labeling with Cy-dCTP is the simplest and fastest method for labeling DNA. This is a standard Klenow labeling protocol in which Cy-dCTP is incorporated during the labeling reaction. After stopping the reaction, labeled nucleotide is separated from unreacted Cy-dCTP, and Cy3- and Cy5-labeled materials are combined for hybridization (Protocol 10). This protocol is suitable for many applications, including detection of copy number variation, nucleosome mapping, and other location analysis (e.g., ChIP-chip).
---
---
---
---
Protocol 8: Indirect Labeling of DNA
doi10.1101/molclon.000186
As with RNA labeling protocols, the main difference between direct and indirect DNA labeling protocols is a trade-off of cost and time. Indirect labeling of DNA takes 2 h longer than direct labeling but is hundreds of dollars cheaper.
---
---
---
Protocol 9: Blocking Polylysines on Homemade Microarrays
doi10.1101/molclon.000187
Homemade microarrays are printed on polylysine-coated slides. The lysines form a positively charged surface that can bind nonspecifically to the acidic nucleic acids during hybridization, resulting in significant background fluorescence. Thus, a key step in microarray processing is blocking all of the surface lysines not associated with the oligonucleotides in the microarray spots. The -amino group of lysine is succinylated by reacting with succinic anhydride (Fig. 1). Because anhydrides readily hydrolyze in water, use only fresh reagents that have not had the opportunity to absorb much water.
The procedure is straightforward. Microarrays are, if necessary, rehydrated; excess liquid is removed by drying at a moderate temperature; and the succinylation reaction is performed. After the reaction is complete, the slides are washed and dried with ethanol, at which point they are ready for hybridization or they can be stored in a desiccator. Rehydration is necessary if the microarrays were desiccated after printing (see Protocol 1). When microarrays are stored in a desiccator, the spots typically dry out to form rings. Rehydration is important to restore the full spots.
---
---
REFERENCE
Simpson RJ. .

Year:

2003. Peptide mapping and sequence analysis of gel-resolved proteins. In Proteins and proteomics, pp. 343424. . Cold Spring Harbor Laboratory Press, Cold Spring Harbor, NY.
Protocol 10: Hybridization to Homemade Microarrays
doi10.1101/molclon.000188
Competitive hybridization of labeled probes to a microarray is conceptually similar to other hybridization methods, such as Southern blotting. For massively multiplexed microarrays, the adoption of two-color hybridization schemes has been a significant advance. The use of two colorstypically Cy3- and Cy5-labeled nucleic acidsmakes it possible to control for factors that affect hybridization intensity, including the number of labeled nucleotides and the Tm of each oligonucleotide. Thus, the difference in intensity among spots on a microarray can be quantified and analyzed to assess biological phenomena, like changes in gene expression or details of transcript structure.
Hybridization is conceptually straightforwardcold (nonfluorescent) blocking nucleotide is added to the mixed probe material, Hybridization buffer is added, and the mixture is applied to the microarray surface. Hybridization occurs overnight, after which the microarray is washed and scanned. The only technically challenging aspects of this protocol are application of the probe solution to the microarray surface and placement of the coverslip (Steps 8 and 9 below). Practice these steps, applying Hybridization buffer containing salmon sperm DNA, before using your fluorescently labeled DNA in an actual experiment. Develop the ability to work rapidly, and avoid introducing bubbles or scratching the array surface.
Many hybridization chambers are available commercially; these typically consist of a two-part metal chamber housing an internal cavity large enough to hold a microarray slide. Often there are small depressions in the internal cavity, which can hold extra buffer that will humidify the chamber. There is also a rubber gasket that forms a watertight seal around the chamber. Other hybridization systems include the Maui mixer, which moves hybridization solution back and forth over the array. For the user of homemade microarrays, however, these more expensive hybridization systems are an unnecessary expense.
---
---
---
Save 30% & Get Free Shipping!
Save 30% at checkout on our website.
(Limited time special offer.)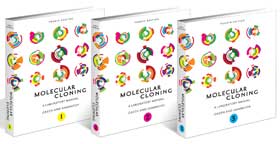 Search for information about other protocols included in the book:
Read What Others Are Saying About Molecular Cloning:
Get alerts about special offers from Cold Spring Harbor Laboratory Press free to your Inbox